Description
Optisan EVX 4-16x44i Illuminated Etched MIL-MH10X 30mm Side Focus Rifle scope
Optisan EVX 4-16x44i Illuminated Etched MIL-MH10X 30mm Side Focus Rifle scope with 3″ sunshade, 3″ sidewheel and metal flip up lens caps
The new Optisan EVX 4-16×44 riflescope is ideal for airguns, rimfires and even full bore centerfire rifles
The EVX line is reengineered to top the generation I flagship Viper line first introduced back in 2006. The new Optisan EVX Line is designed and engineered for sub-MOA precision shooting and hunting and is field tested holds up to .308 and .300WM.
The GEN II redesigned optical system has a 25% larger field of view with generous eyebox which shooters will find it handy encountering quick target acquisition.
With mil/mil matching turret / reticle and a redesigned mil-hash reticle for long range holdover as well
Lockable target turrets which are thumbwheel adjustable making it quick and easy to make precise adjustments.
Parallax adjustment via a side focus wheel which offers adjustment from 10 yards to infinity.
And included are a 3″ sunshade, a 3 inch sidewheel and flip up lens caps.
Optisan EVX 4-16x44i Illuminated Etched MIL-MH10X 30mm Side Focus Rifle scope
MIL-SFPMH10X ReticleThe MH10X is a second focal plane MIL based hashmarked ranging reticle designed for accurate ranging at 10X, holdover, and windage corrections. Subtension detail for the EVX 4-1612X44i with SFPMH10X reticle as below. Reticle subtensions correct at 10X.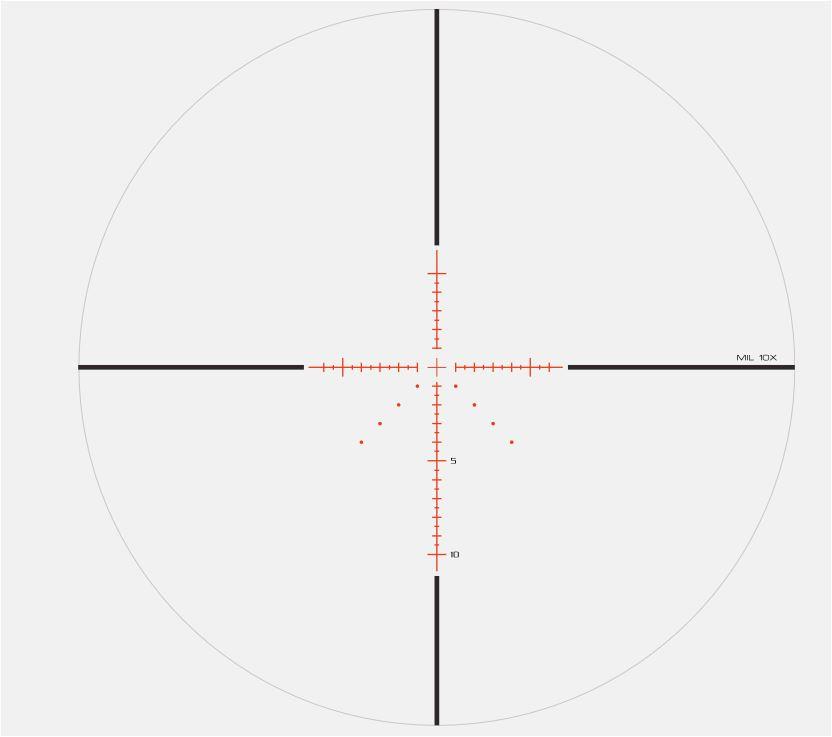 Second focal plane reticle. Reticle subtensions correct at 10X. Subtension detail for the EVX 4-16x44i with SFPMH10X reticle shown above. Reticle illuminated in red as shown
OPTICAL DATA
Magnification – 4-16X
Objective Diameter (mm)    44mm
Outer dia. Objective (mm)    53mm
FOV (ft/100yds) 27.2-6.8 – 9.2
Eye relief (in)   3.5-3.8″"
Exit Pupil – 2.75-11mm
Diopter Range (dpt)    +2/-2
Parallax Adjustment    10yds – infinity (100yds parallax free)
Lens Coating – Fully Multi-coated
Optisan EVX 4-16x44i Illuminated Etched MIL-MH10X 30mm Side Focus Rifle scope
MECHANICAL DATA
Tube Construction – One-piece tube, aircraft aluminum
Windage & Elevation Adjustment (value per click)    0.1 mrad
Turret Style – Push pull lockable
Travel Per Rotation    4.8 mil
Windage& Elevation adj. range    >= 15 mil
Eye Piece Diameter – 1.73" / 44mm
Eye Piece Length – 2" / 51.2mm
Mounting Length rear – 58mm
Mounting Length front – 59.3mm
Tube Dia. – 30mm
Length 14.25"  / 362mm
Weight – 726g / 25.6oz
Surface Finish – Matte Black
ENVIRONMENT DATA
Functional temperature -20 ~ 50 degree celcius
Storage temperature -20 ~ 50 degree celcius
Submersion tightness JIS 7
RETICLE DATA
Reticle – SFPMH10X
Calibrated Ranging Power – 10X
Focal plane – Second
Illumination – 6 Steps illumination with off setting in between
Standard Accessories Included
3″ Sidewheel
3″ Sunshade
Metal filp up covers